CURRENT EVENT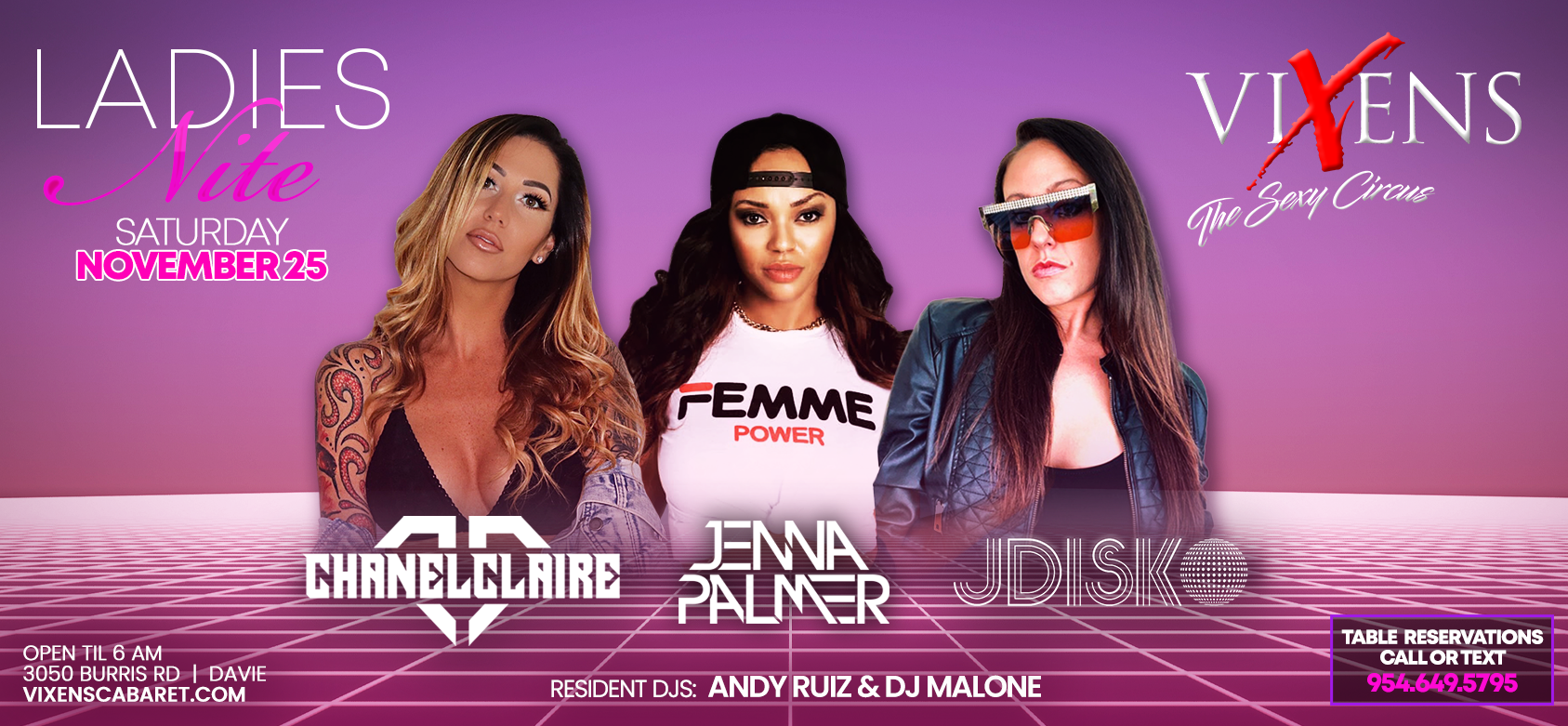 Vixens Cabaret
South Florida's Late Night Party Spot
We are located minutes from Hardrock & Downtown Fort Lauderdale. Open Until 6am. Everyone is Welcome! We work hard to be the #1 South Florida gentlemans club that has more to offer that any strip club around. See for yourself why our patrons love us. Come play in our VIP,  indulge in our champagne rooms and party in our skybox. We also offer the following:
Hottest Girls In South Florida

Let the hottest girls in South Florida help you take your mind off of everything except partying or relaxation. Whichever you need.

Men, Women and the LGBTQ 🏳️‍🌈 community welcome

Come one come all to Vixens sexy circus. We are open to anyone and everyone that wants to come and play with us.

CORPORATE & PRIVATE EVENTS

We are staffed and have the resources on hand to host literally any size event or party. So bring your employees for a seminar, a party to celebrate a record breaking month, or simply to have a good time.
NIGHTLY LIVE ACTS & PERFORMANCES

We have popular bands and artists, not to mention other acts (adult and PG), come in to make sure our guests are as entertained as possible. Every night.

Birthday and Divorce Parties

With such a major birthday coming up? This was the year to go big. Let us take care of everything.

Bachelor & Bachelorette Parties

If you've been dreaming of strippers and penis-shaped candy since puberty, clear it with your soon-to-be-spouse, and party on. Allow me to make the case for a combined celebration—yes, a bachelor/bachelorette party wherein the groom and bride and their friends hang out together. We cater to all 3 possibilities.
Subscribe to our mailing list
Send Us A Message. We Will Respond within 24 hours.
OPEN DAILY:  5 PM – 6 AM
EMAIL ADDRESS:  INFO@VIXENSCABARET.COM
MUST BE 21 WITH VALID ID TO ENTER
DRESS TO IMPRESS.
3050 Burris Rd, Davie, FL 33314